BASF invests in start-up 3Helix Inc. to jointly bring collagen-hybridizing peptide solutions to the personal care market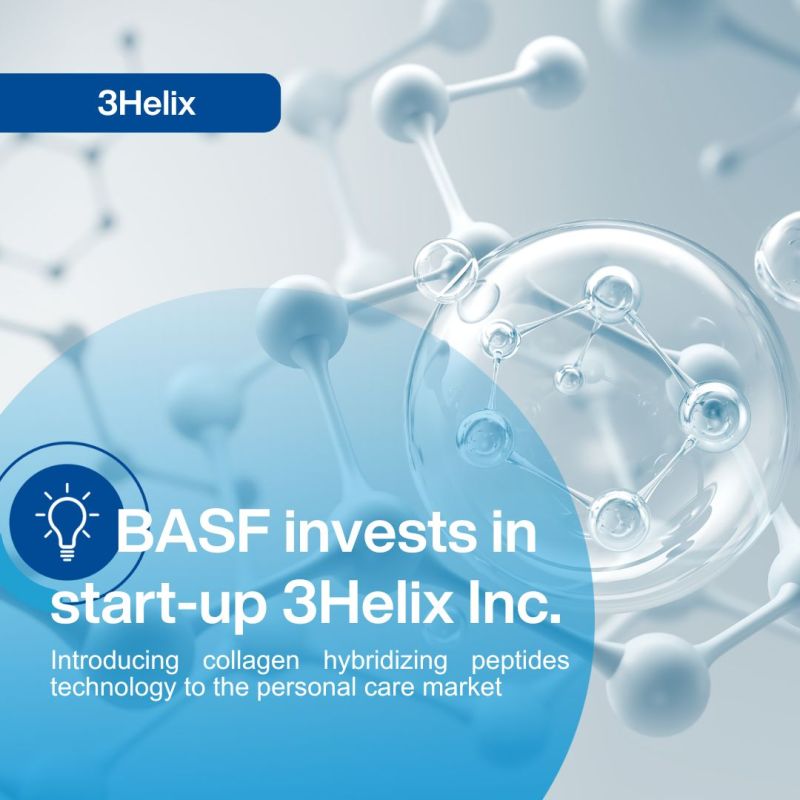 Innovation partnership builds on 3Helix's breakthrough developments in collagen-hybridizing peptide (CHP) technology.
BASF to exclusively commercialize 3Helix's technology to introduce CHP innovation to the personal care market.
BASF will join 3Helix Board of Directors.
Advancing BASF Care Chemicals' Care 360° – Solutions for Sustainable Life
Ludwigshafen, Germany and Salt Lake City, Utah, USA, November 2, 2023 – BASF and 3Helix Inc., a U.S.-based technology start-up, announce their innovation partnership on 3Helix's proprietary CHP technology. The partnership involves an equity investment and licensing agreement, granting BASF exclusive rights to commercialize CHP solutions for the personal care field.
3Helix's patented CHP technology is based on short, single-stranded collagen-like peptides that have the unique ability to bind to damaged and denatured collagen, enabling extraordinary anti-aging claims.
The partnership comes after successful research and development work by 3Helix, which has seen their CHP technology quickly progress from laboratory scale to pilot stage. Recognizing the immense potential of this technology, BASF plans to bring it in-house and aims to launch initial CHP solutions in 2025.
Since its establishment in 2015, 3Helix has focused on developing an innovative technology platform to target damaged collagen for various applications, including personal care.
"It has been an exciting journey to bring our technology to this point where we can partner with BASF," states Mike Kirkness, CEO of 3Helix Inc. "We look forward to the intense collaboration in the coming years and welcome BASF to the 3Helix Board of Directors."
"With this partnership, BASF continues to demonstrate our investment in open innovation and expand our innovative offerings to our customers," said Dr. Marina Safont Sempere, Director of New Business Models & Digital Officer, Care Chemicals at BASF. "3Helix's results from laboratory trials are very encouraging and show the potential of this new innovation for the personal care market."
The partnership between BASF and 3Helix is a further example of how BASF's Care Chemicals Division is addressing future challenges. Sustainability, digitalization, innovation, and new approaches to working together are the key cornerstones of Care 360° – Solutions for Sustainable Life.  
About BASF
BASF Corporation, headquartered in Florham Park, New Jersey, is the North American affiliate of BASF SE, Ludwigshafen, Germany. BASF has approximately 16,000 employees in North America and had sales of $25.7 billion in 2022. For more information about BASF's North American operations, visit www.basf.com/us.
At BASF, we create chemistry for a sustainable future. We combine economic success with environmental protection and social responsibility. More than 111,000 employees in the BASF Group contribute to the success of our customers in nearly all sectors and almost every country in the world. Our portfolio comprises six segments: Chemicals, Materials, Industrial Solutions, Surface Technologies, Nutrition & Care and Agricultural Solutions. BASF generated sales of €87.3 billion in 2022. BASF shares are traded on the stock exchange in Frankfurt (BAS) and as American Depositary Receipts (BASFY) in the United States. Further information at www.basf.com.
About the Care Chemicals division at BASF  
The BASF division Care Chemicals offers a broad range of ingredients for personal care, home care, industrial & institutional cleaning, and technical applications. We are a leading global supplier for the cosmetics industry as well as the detergents and cleaners industry, and support our customers with innovative and sustainable products, solutions and concepts. The division's high-performance product portfolio includes surfactants, emulsifiers, polymers, emollients, chelating agents, cosmetic active ingredients and UV filters. We have production and development sites in all regions and are expanding our presence in emerging markets. Further information is available online at www.care-chemicals.basf.com
About 3Helix Inc.
3Helix is a biotech company based in Salt Lake City, Utah founded by distinguished biomedical engineering professors Dr. Michael Yu and Dr. Yang Li.  3Helix's Collagen Hybridizing Peptide (CHP) technology is the first platform that takes advantage of the difference in the 3D structure between damaged and healthy collagen, allowing CHPs to target, localize and bind to areas with damage. The next generation of the technology, bioACTIVE CHPs, naturally activate your body's rejuvenation mechanisms to give you younger, healthier looking skin, and even prevent skin aging.